Paul Murnaghan works with the substance of belief. Each action explores fragmentary points of intersection between the spiritual, scientific and psychological. Content is gathered through a multitude of experiments, projects and utopian quests. The results of these are often of an ethereal nature whilst others develop as moving image, sound, music and installation. Murnaghan's projects rarely happen without other people and the generosity of exchange. Recent works consider an aesthetic of emphatic certainty and frequently attempt to re-inhabit thinking that has lost contemporary credibility.
Paul Murnaghan's projects often take the form of invitations. In Memorious (2006), the invitation was an advertisement, in which the artist offered part of his memory to hold the recollection of another. During the next year, Auto Da Fe (2007), was an invitation to believe - as Murnaghan created an artwork, in the soon-to-be-demolished Pallas Heights Gallery, that no one would be allowed to see. Sitting between belief, knowledge and faith and drawing on the generosity of exchange, this latest project, 'A Line Describing Nothings', continued these themes by asking people to undertake 'a past life regression', and then to assist in the drawing of artworks based on the recovered, or discovered 'memories'. Wonderful, and somehow surreal, these works are not attempts to solve the mysteries and myths of past lives, collective memory and master narratives, but are instead simply responses to the information received.

Gemma Tipton, extract from 'A line describing nothings', Catalogue, 'the LAB'.
A line describing nothings, May 2008, the LAB, Foley St, Dublin.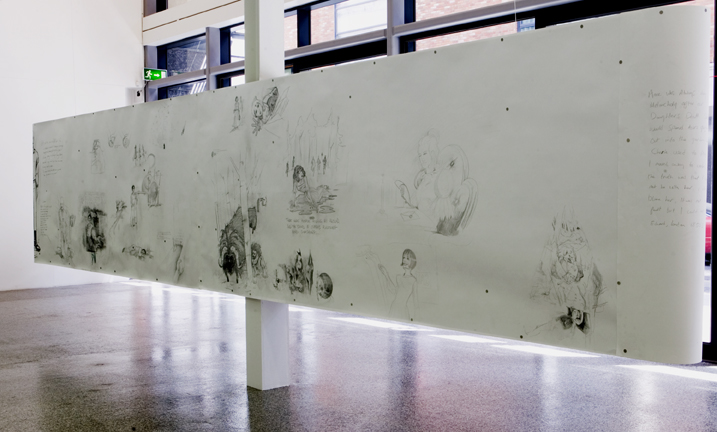 Regression Drawing. Pencil and marker on Fabriano paper, hung with 200 magnets, lenght 15 meters.
Over a 48 hours period, 10 volunteers were hypnotically regressed, with one stipulation. Immediately after the regression they must assist in
rendering drawings by describing scenes based on their past life, details such as where and when they lived, what they wore, how they died.